>> INTEL EDISION - SMALL, BUT POWERFUL
... and now Intel is in on the "wearable" action hot on the heals of Google and Apple.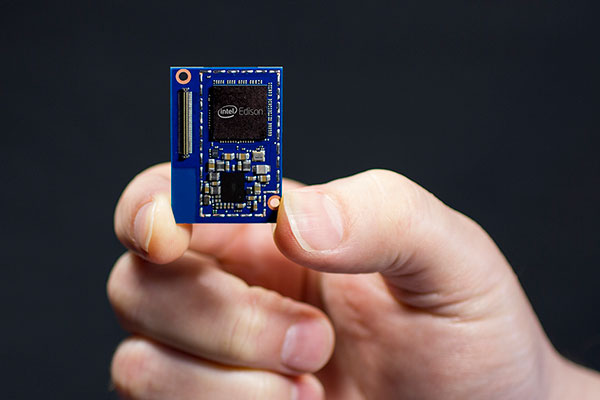 In January this year, Intel announced a new tiny computer called the Intel Edison that would be the size of a standard SD card (Secure Digital) but pack a punch with some impressive technical specifications which could power many projects within the Internet of Things industry - specifically wearable computing. To top it off, it is available on its own or as an Arduino compatible board which allows them to reach out to an existing developer base.
"It's pretty much what would have been a full desktop not that long ago,
... on the size of a postage stamp,"
Mike Bell, head of new product design, Intel
Taking a quick look at the product specifications - how powerful is it really?
22 nm Intel® SoC

dual-core, dual-threaded Intel Atom CPU at 500 MHz
Intel Quark micro-controller at 100 MHz

1 GB LPDDR3 POP memory
4 GB eMMC (flash memory)
Broadcom 43340 802.11 a/b/g/n; (dual band 2.4 and 5Ghz)
Bluetooth 4.0
40 GPIO (which can be configured as)

SD card, 2x UART, 2x I2C, SPI, I2S, 12x GPIO (4x PWM), 1x USB 2.0

35.5 × 25.0 × 3.9 mm (1.4 × 1.0 × 0.15 inches) max
From a developer point of view it uses Yocto Linux v1.6 as the main operating system and provides support for Arduino IDE sketches, Eclipse supporting C, C++ and Python and Intel XDK supporting node.js and HTML5 which covers a large range of developers and purposes.
The standalone Edison is priced at $50 US and the kit for Arduino is available for around $100 US at various vendors (currently only available as pre-order) - since the announcement was only done by Intel yesterday. I have played a little with the Intel Galileo and the Edison looks to be it's little brother and just as much fun but with more power and possibilities.